Cromimi's FAQ
How do I launch a challenge at the Park?
When you are at the Park, you will see a list on the right of the screen ,
Cromimis to Challenge
: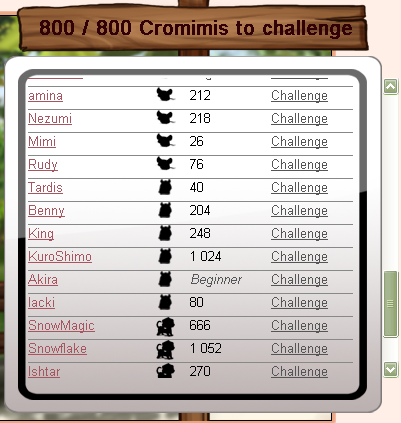 There are
always at least 50 cromimis to challenge
.
You can
see how many challenges have been accepted
and
you can see the challenges that haven't been launched
!

Remember:
You can launch up to
800
challenges, and accept
600
.
To challenge a Cromimi, click on the "
Challenge
" button next to their name and a new window will open: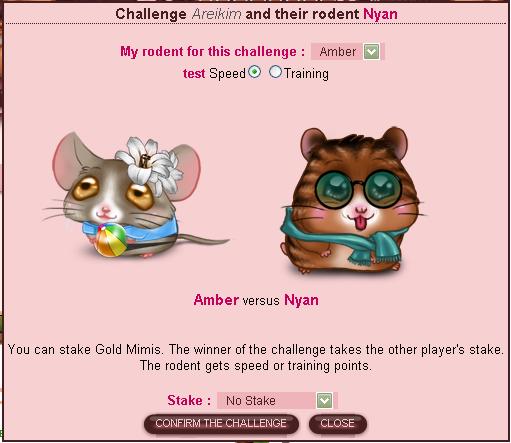 First, choose the name of
your
rodent that will participate in the challenge. To change the rodent,
click on the 'My rodent for this challenge' menu
and select the rodent you wish to use:
Then, choose the type of challenge, either, "
Speed
" or "
Training
" :
Finally, at the bottom of the window, you can choose whether to place a bet on the challenge or not,
you can bet between 0 and 490 GM
:
Click "
Confirm the challenge
" or "
Close
" (to cancel the challenge)..
The challenge will be added to the table on the left under "
Pending
" and will wait to be accepted by the other player. Once it has been accepted, you can find it in the "
Challenges
" list, where you can "see" the duel.
« Back